Ethical Botanicals offers premium organic CBD for pets too! Pet parents can support their pet's wellness with flavoured CBD oil for dogs, CBD oil for pets and various CBD treats for pets too. You can even purchase CBD isolate online in Canada and make your own unique treats for the pets you love!
CBD for Pets, The Complete Guide!
CBD for Pets!? That's right, people all over the world have begun using CBD oil to help treat their dogs, cats, horses and even elephants! The practice was practically unheard of a few years ago, but Canadians have jumped aboard, with large numbers of pet parents buying CBD. But does CBD work? Is it legal? Is it safe for animals? In this article we explore those questions plus offer a few do's and don'ts, advice on dosage, look at advantages of pet CBD oils versus treats, and offer a short buying guide.
Can CBD Oil Really Help Our Pets?
In short, yes. Though most of the research is being done for the benefit of people, many studies are conducted on animals first. The way CBD works is by interacting with our endocannabinoid systems (ECS). As it turns out, all vertebrates have endocannabinoid systems of their own. They aren't all identical and don't respond to CBD in exactly the same way. But, what we all share is that our ECS uses cannabinoids produced by our own bodies called endocannabinoids as messengers.
Our ECS is a homeostatic regulator, its job is to keep all major bodily systems in balance and the body as a whole running smoothly. When things are out of whack, the ECS deploys endocannabinoids as messengers to tell various systems and processes to get back in balance. For dogs, cats and people, cannabinoids like CBD can interact with the ECS in a way very similar to how our own endocannabinoids do, dialing down anxiety, inflammatory responses, pain perception and more.
There isn't enough scientific research out there that proves CBD does what people say it does. A lot of what we understand about CBD comes from anecdotal evidence—stories from people who have tried CBD for their conditions and reported improvements. The same holds true for pets. Something like 74% of CBD users have pets, which likely explains how this practice became so popular so quickly. Pet owners have tried CBD products and, discovering that they help, bought CBD products for their pets to try as well. In many cases, CBD improves pets' quality of life.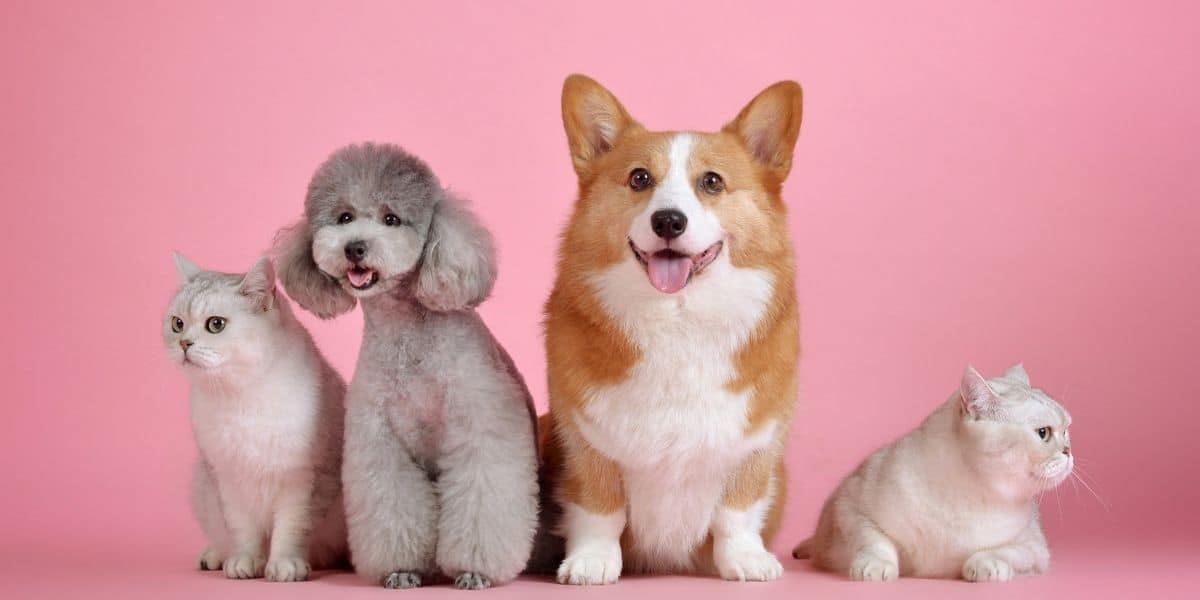 As the practice of giving CBD to pets has popularized, the market has responded with new CBD products offerings for pets.Though we re-iterate that there isn't conclusive science for many of the claims being made, that's not to say the veterinary science community is not interested in CBD for pets.
What Are Vets Saying About CBD for Pets?
American Kennel Club Chief Veterinarian, Dr. Jerry Klein, for example, believes cannabidiol shows tremendous therapeutic potential for a multitude of conditions. CBD's list of properties is long and impressive, including anti-inflammatory properties, cardiac benefits, anti-nausea effects, appetite stimulation, anxiety relief and even anti-cancer properties.
That's why the AKC Canine Health Foundation (CHF) has sponsored a Colorado State University study, through the College of Veterinary Medicine and Biomedical Sciences, evaluating CBD for use in epileptic dogs whose conditions currently resist normal therapies. The hope is that the study, as the first for CBD in dogs with this condition, will yield valuable new data.
Among the other studies out there we can mention is a 2018 study published in Frontiers in Veterinary Science. This one looked at CBD for dogs with osteoarthritis, specifically whether it increased their comfort and activity at home. The result was that 80 percent of the dogs experienced significant improvement in mobility and comfort.  
Another study on epileptic dogs showed that CBD helps reduce the frequency of seizures. There are a few studies out there that supports the theory that CBD is helpful to animals and humans alike. Though there aren't that many peer-reviewed studies out there yet, a very large amount of scientific inquiry has begun since legalization in the US, Canada and other jurisdictions.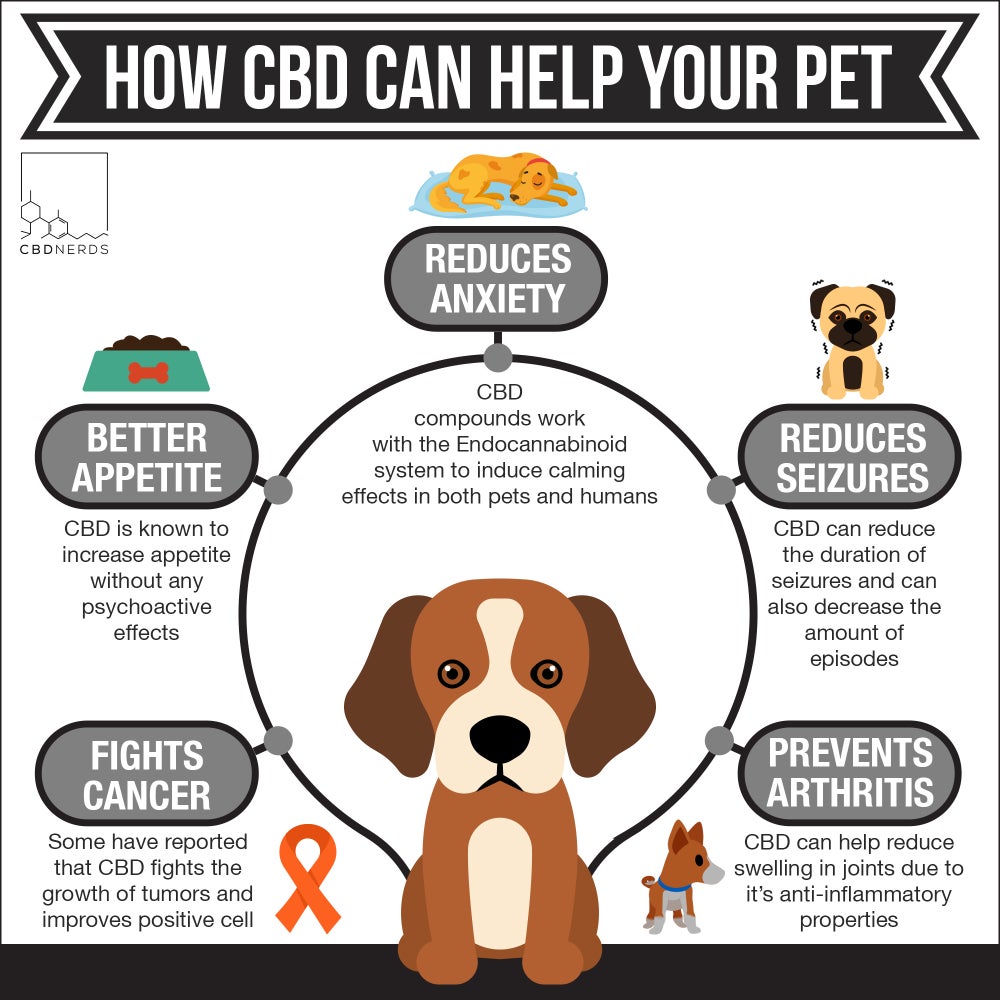 Stephanie McGrath, one of the researcher on the American Kennel Club study, seems bullish on CBD's potential for pets. At the moment, veterinarians don't have that many tools for treating conditions like osteoarthritis and epilepsy. The options they have often come with harsh side effects. "If CBD works, then I think it would hit the mark of being both effective and not carrying a lot of side effects," said McGrath. "So that's kind of what we're hoping for."
CBD For Pets. The Do's And Don'ts
Do…
Ask your veterinarian if they can talk to you about CBD. If so they can offer valuable insight and advice for how to administer CBD to your pet safely.
Do…
Find out if your pet has any coconut allergies. Most pet CBD oils use MCT oil as the carrier oil. This is fine for most pets, but some animals may have sensitivities. To read more about the benefits and possible risks of MCT oil for your dog read here.
Don't…
Buy shoddy products that contain little-to-no CBD. Examine the label and make sure none of the ingredients are allergens, fillers, preservatives or THC. THC intoxication can be traumatic for pets, especially since they need smaller amounts than humans to get high.
Don't…
Give pets any kind of human CBD treats—they may be toxic to your pets! Examples of human foods we shouldn't share with our pets include:
Chocolate
Coffee
Nuts
Oils
Citrus
For a full list see here.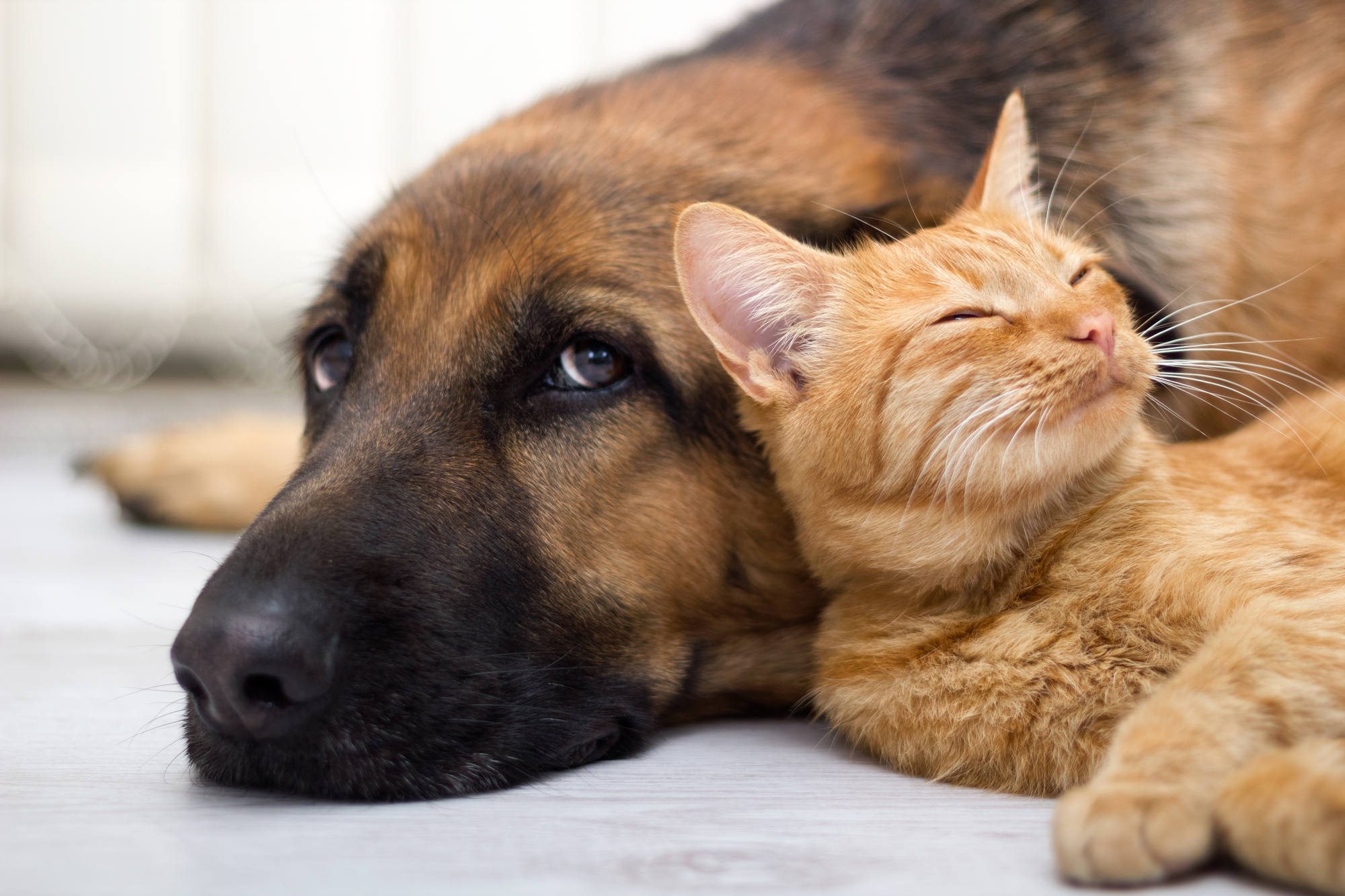 What's the Proper CBD Dose for my Cat or Dog?
If your veterinarian is allowed to talk about CBD, ask them first. If professional advice isn't available, you can follow the general outlines below. These quantities are perfectly safe:
Mild Dose — 0.022 mg/lb or 0.05mg/kg
Average Dose — 0.068 mg/lb or 0.15 mg/kg
Strong Dose — 0.136 mg/lb or 0.30 mg/kg
It's often too hard to give pets doses as accurately as the numbers above imply. Not to worry, these amounts are harmless and it won't matter if you are off by a milligram or three.
Finding the dose that works best for your pet may take some work. You'll want to keep a journal that records what CBD dose you  administer on a given week, plus observations about your pet's condition and behavior. The more detail the better. "Start low, go slow" is the general rule, so start with a lower dose and increase it by 5-10% once a week. After a month or two, you can go back through your journal to try and determine which week your pet felt best.
Between pet CBD oils and pet CBD treats, there are quite a few ways to give your pets their dose. CBD oils are the easiest to administer accurately with bottles that come with measured droppers. However, CBD pet treats should mention the amount of CBD per piece, if the dose is in the range that works for your pet, then it's fire and forget!
Can I Give My Pet Too Much Cannabidiol?
CBD is non-toxic and doesn't cause overdose. Giving your pet too much CBD might make them more sleepy, but they'd only experience side effects like mild nausea, diarrhea, drowsiness, changes in appetite with very large doses.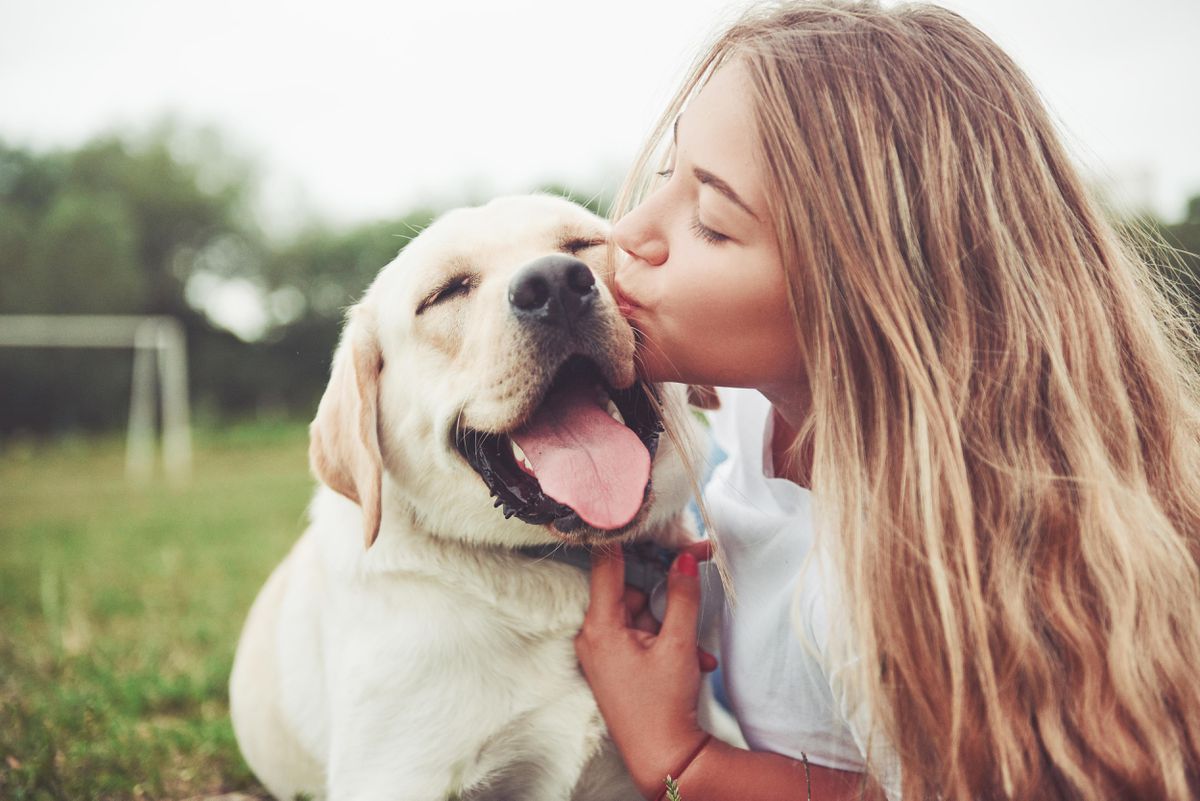 What Works Best? Treats, Oils Capsules or Creams?
Stephanie McGrath studied this question and the results were quite interesting. The goal of the study was to analyze how  CBD moved through the bodies of healthy dogs depending on three different delivery methods — oils, capsules and creams.
"We measured the pharmacokinetics, which basically means you give the dogs a single dose of all three delivery methods and then you measure a bunch of different blood levels over a 12-hour period," says McGrath. "So how quickly is the CBD absorbed, how high the blood concentration gets at that single dose, and then how fast the CBD is eliminated."
What the tests revealed was that oils generally get into the blood more quickly and in larger amounts. Capsules had to pass through the digestive tract, so CBD took longer to get into the bloodstream and in somewhat smaller amounts. Creams performed a little bit less well and performed too inconsistently for McGrath's team to conclude whether it was effective.
The thing to remember about CBD topicals is that, generally, they won't get CBD into your bloodstream. However, the skin is the organ with the most endocannabinoid system receptors. CBD creams may not penetrate into the bloodstream, but they can deliver CBD through pores in the skin to reach large numbers of ECS receptors in the area where creams are applied.
Pet treats infused with CBD can be a fun way to get pets their daily dose. Pets usually like treats far more than capsules. Brands will list how much CBD there is per treat, so if the treats contain an appropriate dose for your pet, they might be the most convenient delivery method.  Just remember that treats pass through pet digestion systems before the CBD can get into the bloodstream, so it may take up to an hour for your pet to start feeling the onset of effects.
Remember to "start low and go slow" when starting your pet out on a CBD regimen.
Some Handy Advice For Shoppers
Thinking about trying CBD for your pet? Here are a few tips to make sure you're getting something reliable and safe. Some companies out there are sneaky and might want to sell you hemp oil with no CBD in it but dress it up as "medicinal."
Look for organic. MCT oil can be organically-sourced. Check lab results for any evidence of pesticides, fungicides, or solvents.
Don't price shop. Quality products cost more. If something is too cheap to be true, it's probably no good. People using extremely cheap ingredients might be giving you something contaminated with toxic substances, pesticides, heavy metals, herbicides or more. If you see illegible additive-sounding ingredients on the label, steer clear.
Get the analysis. Every brand should be able to provide 3rd party lab tests for their products. Check whether the product has any impurities or THC. THC can be medicinal for pets, but it can also get them high and traumatize them if there is too much. Pets are usually much smaller than us, so it only takes a fraction of the THC to give them a panic-inducing bad trip.
CBD oils are the easiest option. These are just the easiest to use overall. Drop some on their favorite treat or kibble, measure out dosage more easily. Some CBD oils for pets are flavoured with chicken, salmon or bacon flavours too, and pets usually love them!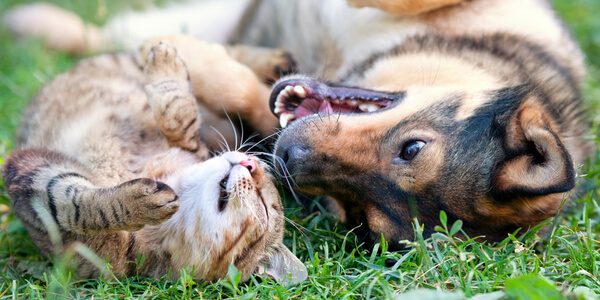 Medical disclaimer: This information does not constitute medical advice and it should not be relied upon as such. Consult with your doctor before modifying your regular medical regime.